2931 S. Sepulveda Blvd., Los Angeles, CA 90064, Suite I, Landline 310-478-6146
NW corner of Sepulveda & National.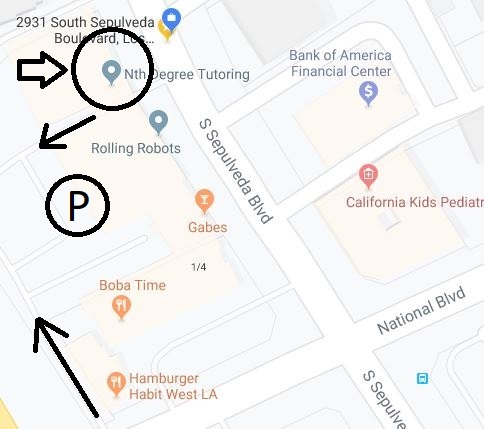 Park behind Rolling Robots, Hamburger Habit, or the vacant restaurants.
2931 S. Sepulveda: Upstairs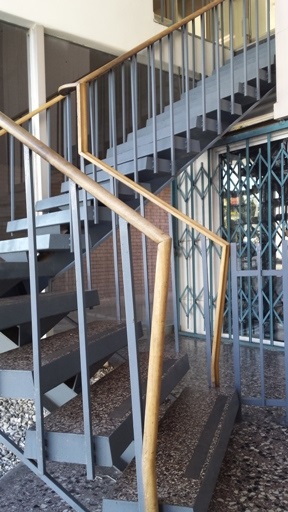 Suite I: 1st Door on Right. Do not go down the hall. Please knock if you don't see me!
If you don't see me, I might be in the inner office. (Out of sight to your right, not down the hall!) Please knock so I know you're here.
Call 310-478-6146 if you get lost or run late
Location
2931 S. Sepulveda Blvd. Ste I (as in "India") Los Angeles, CA, 90064, 310-478-6146
The office is in Westside Los Angeles, within 5 miles of UCLA, Santa Monica HS and College, West LA College, Windward, Wildwood, Notre Dame Academy, the Magnolia Science Academy, Le Lycee's Kabbaz High School, Arete Prep Academy, Olympic High School, Beverly Hills High, Brentwood High, Fusion Academy, New West Charter School, University HS, Marymount High School, the Archer School, Mt. St. Mary's Chalon Campus, Loyola Marymount University, and more!
The Nth Degree Tutoring center is a nice quiet space housing a library of teaching & tutoring materials as well as ample whiteboards, a group tutoring table, a refrigerator, and a wi-fi internet connection. Parking is free and plentiful.
Hours & Contact
scot@NthDegreeTutoring.com
310-478-6146 (landline only, no text messages)
The office is open for lessons
Tue, Thu: 10 am – noon and 4 – 7 pm
Sat: 10 am – 5 pm
Sun: 1 – 8 pm
I am in the office on Mondays for administrative purposes only; I pick up the phone 10 am – 8 pm on Mondays, otherwise by consultation appointment.
The office is completely closed on Wednesdays and Fridays.
Leave a voicemail or email anytime.  Please bear with me as I am a one-person company.  I do not work through an agency, and I don't have a receptionist.  The appointment calendar is always the most expeditious way to reach me.